Take the kids on a stroll or drive through a Burlington neighbourhood overflowing with holiday charm and whimsy. Welcome to Frosty's Village!
Welcome to frosty's village
Just off of Maple Avenue in Burlington, there is a magical place where Christmas comes to life in the form of "Frosty's Village". Frosty's Village is an incredible display of over 140 inflatable snowmen that grace the lawns and properties of homes in the Lockhart Village neighbourhood.
Since 2019 Annie and her friends, Christina and Melissa have spearheaded this community initiative.  Annie was inspired by similar displays she had seen in Alton Village as well as Toronto and with her love of Christmas lights and she was looking to start something similar. 
Taking to their neighbourhood Facebook page, Annie posted the idea of a mass Christmas display and the idea was so well received that a vote was posted to determine what type of display would be showcased. The inflatable Frosty's won by a landslide!
Annie, Melissa and Christina went mailbox to mailbox in 2019 as well as speaking to their neighbours face to face and before they knew it they had over 110 homes set up for their snowman village.  Sourcing snowmen from Grimsby to Brampton the women aided their neighbours in finding snowmen for the project and by December 1st of 2019 over 110 homes were on the "Frosty's Village" map. 
Fast forward to 2020 and "Frosty's Village" is on its second successful year of spreading joy and holiday cheer.  The team has set up a weather-proof donation box for non-perishable food donations at 1148 Lockhart Drive to support the Burlington Food Bank.
There are over 140 homes partaking in "Frosty's Village" this year. Use this map to make your way through the streets and see them all.
Bring a food bank donation if you can, and enjoy your walk or drive "Frosty's Village" in Burlington. 
Happy holidays!
more ideas for winter fun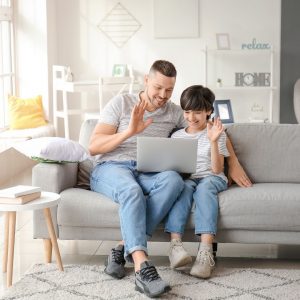 Just because you're not physically close, doesn't mean you can't whoop their butts on game night! Here are some creative and out of the box