Royal Botanical Gardens enchanted holiday train display is back for a limited time! Run, don't walk, to this whimsical display that will be loved by all ages.
When I saw that the train display was back at Royal Botanical Gardens believe me when I tell you I ran to check it out! And you should too!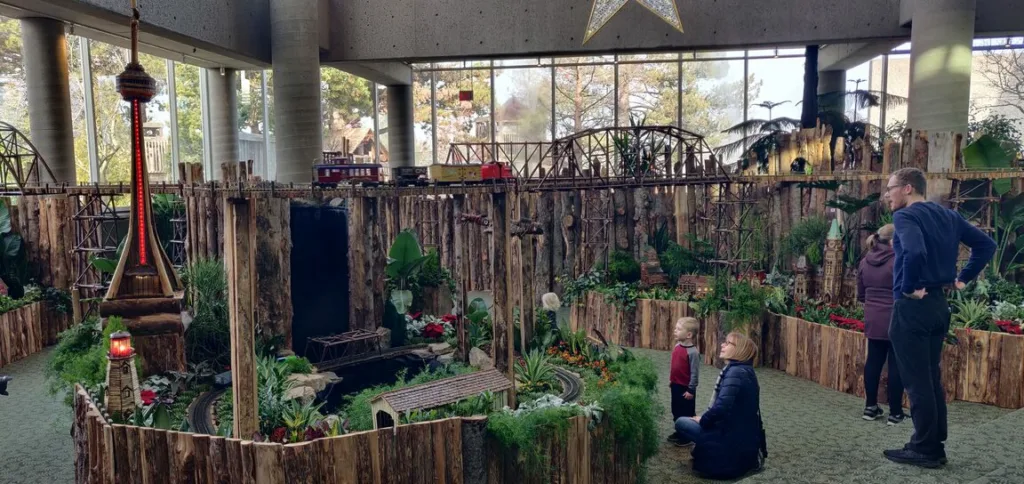 From November 23rd through January 8th, as part of your regular Royal Botanical Gardens admission, you can spend all day watching the trains roll through, around, and overhead in one of the most beautiful handmade displays I've ever seen!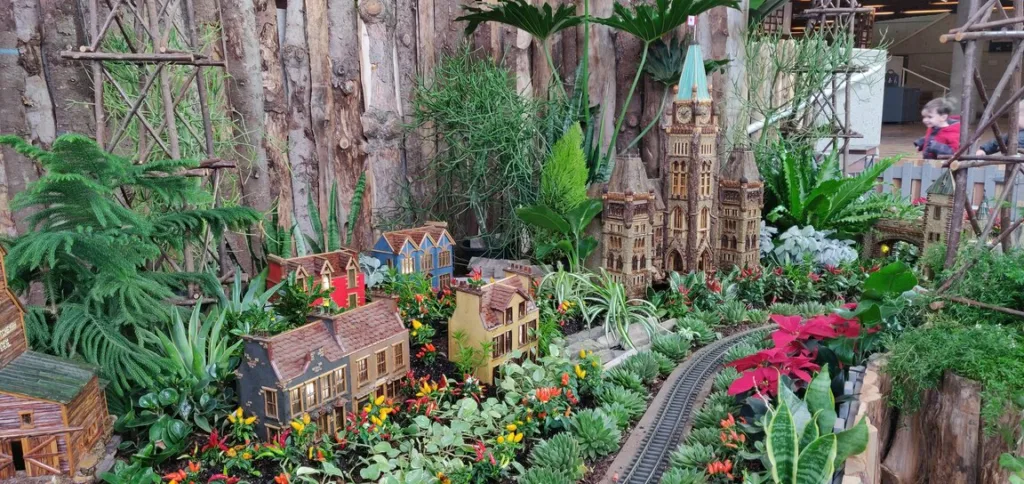 Multiple engines, each with a different number of train cars being towed behind them, each with different sizes and characteristics, roll along what appears to be hundreds of feet of railway tracks. They go through tunnels and suspension bridges and along peaceful water features!
Look closely, because all of that greenery is real! 2500 succulents, leafy greenery and wee red pepper plants line the routes.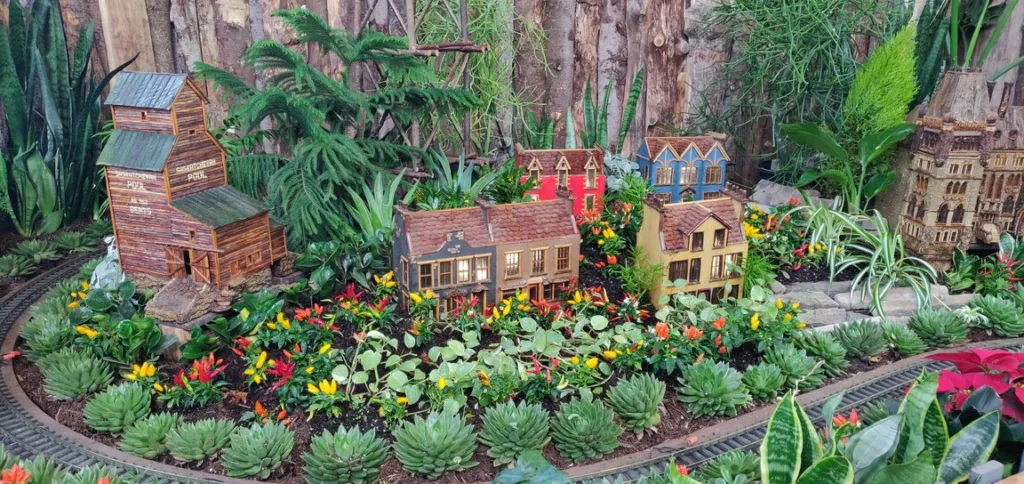 Kids will love looking for Thomas and his pal Percy as they chug along, each pulling a few cars behind them. Keep your eyes peeled for the little ladybug and bumblebee train cars as they scurry in and out of their wooden treehouse.
I went on my own during the day and cannot wait to return with my husband and kids. I'm so happy that an annual family membership was one of our experience gifts from last Christmas. This is the perfect place to take your train fans, no matter their age! My husband's more excited to go than anyone! The grandparents who brought their grandkids today were over the moon with this unbelievably detailed display.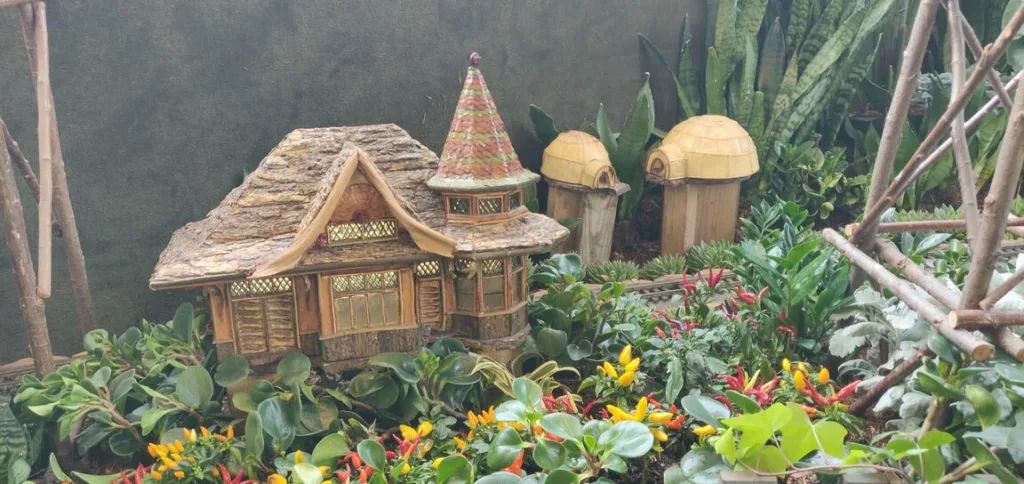 "The Botanical Train returns to RBG Centre! Huge planters made from almost 700 kg of cedar filled with 2,500 plants create a seasonal backdrop for seven different lines of model train tracks. Follow our trains on their journey past scale models of iconic Canadian landmarks constructed entirely from plant materials!"

– Royal Botanical Gardens
Add a Train Ride To Your Adventure
All Aboard! Take a ride on the RBG Express during your daytime visit to the Royal Botanical Gardens. Purchase tickets at the door to take a round-trip train ride through beautiful Hendrie Park to round out your train experience. You can purchase your tickets at the admission desk, while they last. They are timed tickets, so don't forget! $5 per train car (for a maximum of 4 people per car). General Admission or Membership also applies. Available November 23 to January 8, but not available on December 24, 25, 26, or January 1. The first train is at 10:15 a.m., the last train is at 2:30 p.m.
Ask For A Scavenger Hunt!
Borrow a scavenger hunt and explore the botanical train display to see how many items you can find.
The RBG Botanical Train Display Hours
Monday & Tuesday: Open 10 a.m. to 5 p.m., last admission is at 4 p.m.
Wednesday to Sunday: Open 10 a.m. to 4 p.m., last admission is at 3 p.m.
The display remains open during Winter Wonders, 5 to 10 p.m. Winter Wonders tickets are required.
*Date exceptions: December 24, 25, January 1
2022 Royal Botanical Gardens Admission Prices
Adult: $19.50
Senior / Student: $16.50
Child (age 4-12): $11.50
Children under 4: FREE
Family rate (2 adults and 2 children under the age of 18): $44
RBG Members FREE
There is So Much To See And Do At R.B.G.
Come for the trains and stay for the gardens, playground, Christmas trees, lights and more! Here are some of the other reasons to visit the Royal Botanical Gardens.
Folklore Trees – I loved walking around looking at the mini displays of Folklore Trees, and how we came to have so many holiday traditions and stories. Did you know that spiders played a role? And so does popcorn!
Mediterranean Garden (with fish!) – Enjoy a peaceful stroll through the RBG's Mediterranian gardens and you will be treated to hundreds of plants and flowers. Keep you eyes open for a few fish in the ponds, too!
Natural Playground – one of the coolest all-year-accessible areas of RBG is their awesome natural playground. Definitely take the kids to explore here when you visit.
Hendrie Gardens – from spring thru fall Hendrie Gardens in a non-stop progressive blooming oasis of flowers, trees, water features, fish and insects. Another must-see stop.
More Ideas For Family Fun
We have visited hundreds of places and written about them to help you find the very best destination for your next day trip or outing. We love sharing indoor play places, playgrounds that go above and beyond, and more! Here are a few of our latest blogs to help you have a great weekend.