Our ideas for a memorable Halloween at home will make you forget all about door-to-door trick or treating!
How to Have a Spooktacular stay-at-home Halloween
Start Right Now! You don't have to limit your Halloween shenanigans to just one night, start today! You can visit the pumpkin patches and corn mazes right now with the kids, and be sure to come home with a few pumpkins for carving.
Make Your House Spooky – kids will love helping to decorate both inside and outside your home. Go all out! Make paper spiderwebs, mason jar lanterns, anything goes! This is also a great way to get the kids excited for Halloween at home while keeping them busy and creative!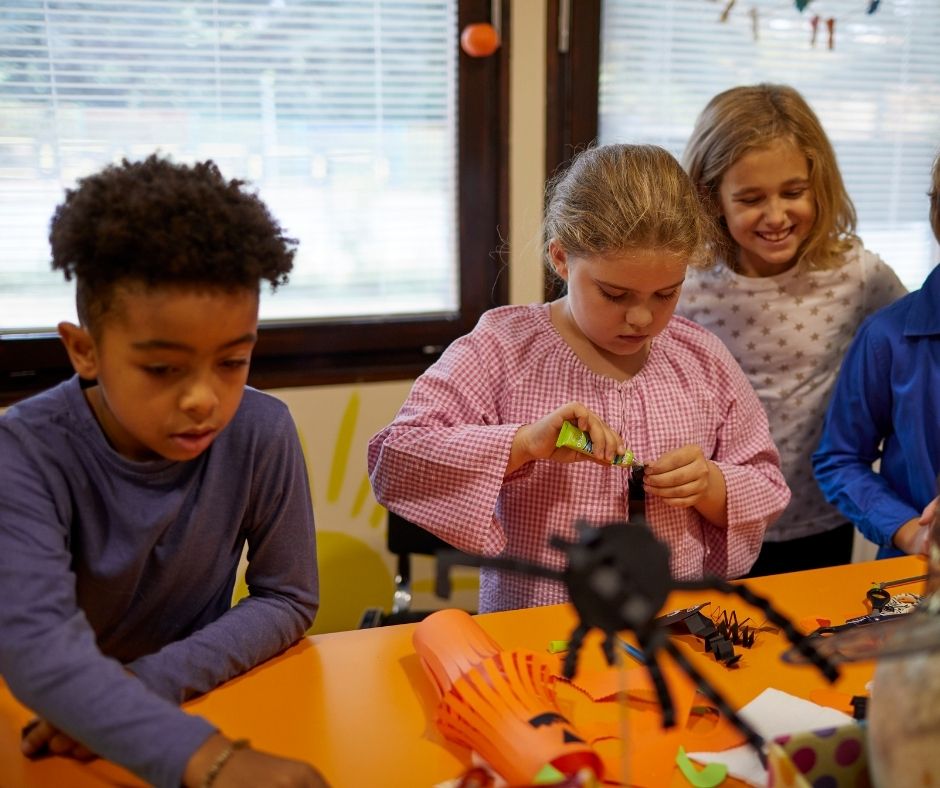 Spooky Movie Night – turn the lights down and turn the jack-o-lanterns up! You'll want some ambience when you watch these family-friendly Halloween movies at home. This is is of 17 kid-friendly Halloween movies on Netflix right now, and these 40+ kid's Halloween movies that won't keep them up at night.
Egg Hunts Aren't Just for Easter! Repurpose those plastic eggs and hide them again on Halloween! Fill them with candy, chocolate or something spookier like fake eyeballs, plastic spiders or slime! Your kids will get a kick out of it, I promise.
Snacks Are Essential! Just because you're not going door to door doesn't mean you can't still fill your tummies with treats while celebrating Halloween at home! We love these monstrously adorable rice krispie treats from One Little Project.  She has so many easy autumn favourites on her Pinterest page.
The Most Important Meal(s) of The Day! Make a fun Halloween breakfast like these epic pancake creations, or wow your kids with this jack-o-lantern cheese quesadilla. So fun and so easy!
Family Costume Contests get the whole family dressed up and see who wore it best. Snap pictures, swap costumes, and maybe even have a mummy wrapping contest. Once you're all dolled up, go for a spooktacular walk … if you dare!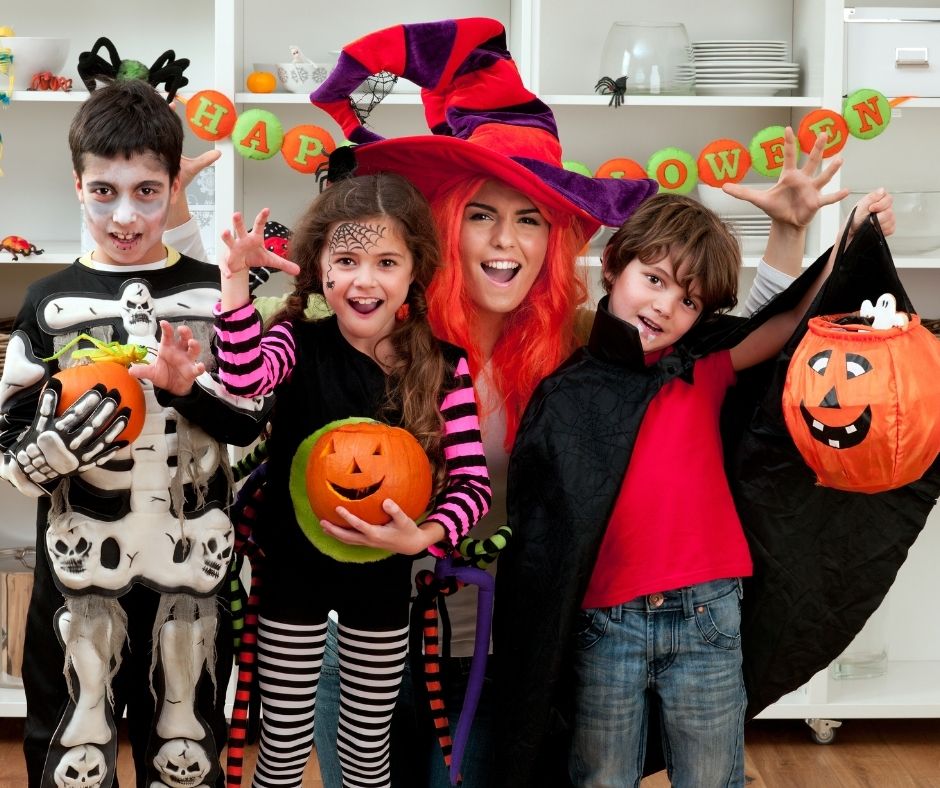 Go Out – With Your Boo Crew
Costume Parade to Friends and Family Homes – instead of the usual visit-every-house-in-your-neighbourhood-before-the-streetlights-come-on kind of trick or treating of years past, you can also take the VIP tour! Visit your close friends and family – at a distance – and show off your costumes. They may even toss you a Snickers bar – from 2m away.
Take A Spooky Drive – Your neighbours are some of the most creative people out there, so let's appreciate their craftsmanship! Our interactive map of Halloween houses shows you exceptional houses with great Halloween decor. Find a few locations on our map that are near you and pack some hot chocolate, monster Rice Krispie squares and make an evening of it! Save this map because it grows daily!
Go Virtual! If 2020 has taught us anything, it's that we can connect online very easily. Your Halloween at home plans can include the best online games for groups or just putting on a show for your relatives.
Drive-Thru Pumpkins After Dark – Last year we loved the walk-through event called Pumpkins After Dark, and this year, I can't believe I liked the drive-thru event even more! The entire drive should take you 45-60 minutes, and there are many new displays and visuals. This one was my favourite. What I loved about it was being able to stay in our warm vehicle and eat snacks! The evening we went was chilly, so the warmth of the car heater was greatly appreciated. Book your times here.
What are your Halloween at home plans? Share them an inspire us to have some more spooktacular fun!
Now Trending…
Pumpkin patches are ready for you and these are the best local ones!
Have you put out your teal pumpkin yet? Don't forget!
Find more excellent ideas for fall fun here
Drive around and Google at the spooky and spectacular Halloween houses in the city.
These Halloween events are sure to creep you out – in a good way!
More Ideas For Family Fun
We have visited hundreds of places and written about them to help you find the very best destination for your next day trip or outing. We love sharing indoor play places, playgrounds that go above and beyond, and more! Here are a few of our latest blogs to help you have a great weekend.