trains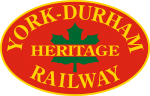 Business Description:
The York-Durham Heritage Railway Association is a non-profit organization operated by volunteers. The heritage train station is located less than 1 hour northeast of Toronto.  Our mandate is to preserve and promote the heritage of Canadian railways of South-Central Ontario.
Enjoy a historic train ride through the Oak Ridges Moraine onboard the York-Durham Heritage Railway, seated in one of our heated/air-conditioned heritage coaches from the 1950's. Be sure to check out our doors-open baggage car during the train ride. Enjoy family-friendly on-board entertainment.  Located less than 1 hour northeast of Toronto, this is a great family day trip!
Our train is equipped with a wheelchair accessible washroom, snack bar, and souvenir stand. The Heritage Train is not wheelchair accessible at the Stouffville station, however, trips beginning and ending in Uxbridge do allow for full wheelchair accessibility to the train.
Trains run every Sunday during from the first weekend in June until the end of October between Uxbridge and Stouffville. The train departs the Uxbridge Station at 10:00 am and 2:30 pm and from the Stouffville Station at noon. Round trips between Uxbridge and Stouffville are 2 hours.  In addition to the regular Sunday runs, York-Durham Heritage Railway offers a number of themed train trips including:
Teddy Bear Days
Day Out With Thomas
Halloween Trains
Santa Trains
We are always adding new feature trips. For detailed trip information for regular and themed trips:  http://ydhr.ca/train/schedule/
It is best to reserve your seats and purchase tickets on-line. PayPal, VISA, and MasterCard are accepted for on-line purchasers. Cash and debit are accepted at the station.
Birthdays:
For those who love trains, York-Durham Heritage Railway is a great way to celebrate that special day. Contact us ydhr@ydhr.ca and we can work with you to organize a party.
https://www.instagram.com/yorkdurhamheritagerailway/