Pearson Community Co-op Nursery School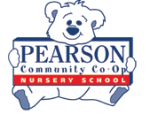 Business Name:
Pearson Community Co-op Nursery School
Business Description:
We believe that children should look forward to going to nursery school each week – a place where they feel safe, happy, involved and able to thrive. At Pearson, families and teachers are continuously collaborating to create an amazing learning environment that achieves this goal. Our curriculum is child-led through exploration and inquiry to allow both child-initiated and adult-supported leaning opportunities. All programs included a healthy snack and outdoor playtime.
Morning Program
Two, three or five mornings a week, this program includes circle-time activities, as well as songs, stories, creative and free play, while building self help and social skills.
Ready To Explore Program (RTE)
Tuesday and Thursday afternoons, RTE is a concepts-based program with monthly modules including science, cooking, music and movement, let's create and more. This program also includes circle-time activities and free playtime.
Ready To Learn Program (RTL)
Monday, Wednesday and Friday afternoons, this program is a more structured preschool experience with additional learning elements such as French classes, fitness and music. There is an emphasis on early literacy skills, based on the Jolly Phonics program. Children practices skills such as name and letter recognition, in preparation for Junior Kindergarten.
Pearson has been part of Burlington's community for more than 40 years. Beginning in September 2018 Pearson nursery school's new home will be in Brant Hills Public School, at 2330 Duncaster Drive, near Dundas St. and Brant St. in Burlington. Spaces fill quickly, register today! Click here: http://pearsonco-op.com/register/register.php to register.
ABOUT PEARSON CO-OPERATIVE NURSERY SCHOOL
Vision Statement: To be a recognized community leader in providing the highest quality of early childhood programming in a nurturing play-based environment.
Mission Statement: To offer a supportive and developmentally appropriate program where staff, parents, and children learn, grow, play and discover together. We aim to provide a safe, caring and nurturing environment that fosters social, cognitive, language and physical growth of the children.
Program Statement: The early childhood years are critical and formative years. At Pearson Co-op Nursery school, we recognize our role as RECE teachers in supporting, nurturing and facilitating the growth, development and well being of young children while also ensuring their health, safety, nutrition and well being are taken care of.