We love a great staycation! So when we heard about the March Break getaway promotion at C Hotel by Carmens, we knew a mini getaway to close-by Hamilton was in our immediate future.
Do you love a good staycation as much as we do? Click below to dig into our favourite Ontario getaways and places to spend a weekend. We love sharing anywhere visit-worthy. You get our honest feedback on experiences, plus photos and tips, to help you plan a great weekend away with your family.
Staycations and Ontario Getaways…
Enjoy A Spring Getaway With Your Family at C Hotel
That late winter funk can easily be kicked to the curb with a short and cheerful getaway that takes you away from home. And weekends or nights away with kids don't need to be pricey, C Hotel in Hamilton has proven that!
When you're out of the house – no matter what you're doing – it's a great escape from the ordinary. Add in a beautiful hotel with an indoor pool, a gift card towards a delicious dinner and a hotel suite for the night and you're all set. Read on to hear about our experience, and why we think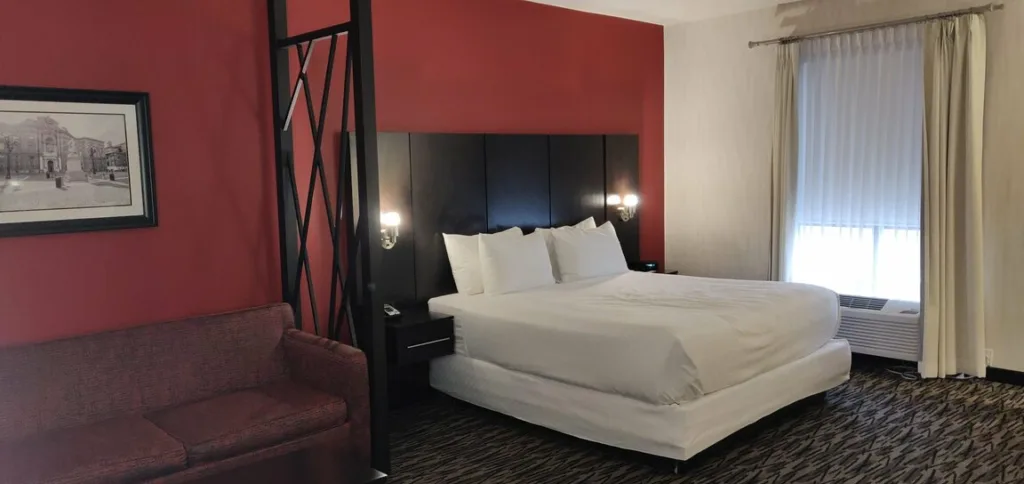 Both Glam and Family-Friendly At The Same Time
When I found out about this deal, I immediately looked up photos on the hotel's website. "Wow!" was my first thought. The hotel has a Little Italy / Rat Pack feel to it, with a touch of classy glam. Crystal chandeliers, rich colours, and above-average art in the hallway make you feel like you've stepped up from your standard hotel chain.
Our suite was beyond comfortable and offered many amenities. I loved the kitchenette with a full sink and fridge and microwave. It made meal and snack options easy and affordable.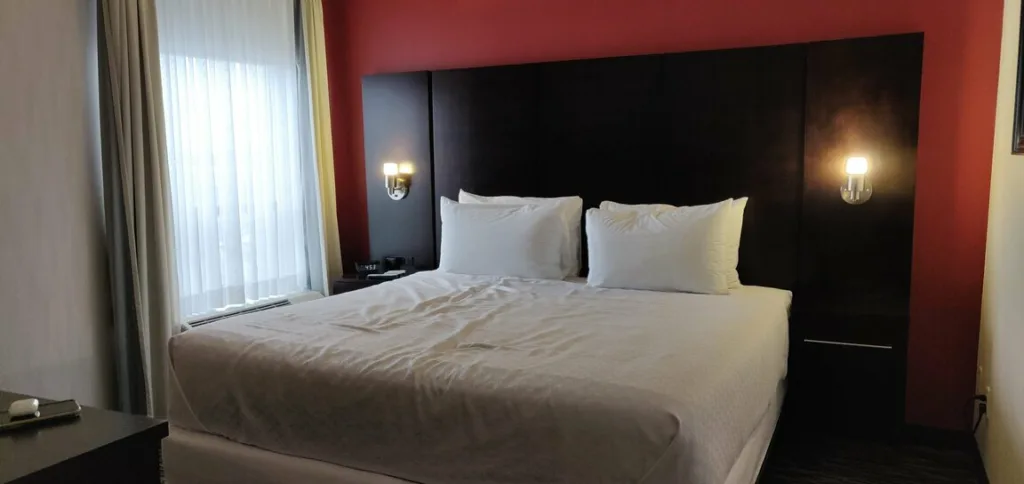 The Play-By-Play of Our Stay at C Hotel in Hamilton
We stayed Friday to Saturday and when we arrived – it was the beginning of a snowstorm! Hamilton is just a hop, skip and a jump away from where I live, so it was easy to get to, even in less-than-ideal driving. We checked in right at 3 pm and headed up to our room – or should I say suite!? This room was one of the nicest we've stayed in yet.
I love having a kitchenette in a hotel because it makes meals and snacks unbelievably easy. My kids are huge snackers, so the fridge, microwave and sink were excellent to have on hand. We even had real plates, cutlery and glassware to use.
Along with the kitchenette, our room had a small dining table, loveseat and TV area. The coffee table gave us a spot to play cards and relax, without being in bed. Speaking of beds, we had two. One large queen bed was in the main space and there was another large queen in a separate room. This bonus room was great for giving our kids space from each other and allowing for my multiple late-night TV watchers to be happy.
To recap, our suite included:
2 queen beds
2 TVs
2 dressers
dining table
loveseat
desk
kitchenette with mini fridge, microwave and sink
cutlery, plates, bowls and drinkware
large shower
large vanity area
Because of the aforementioned snowstorm we sadly didn't get to experience the outdoor firepit and s'mores. But you will! So please have one for me in spirit.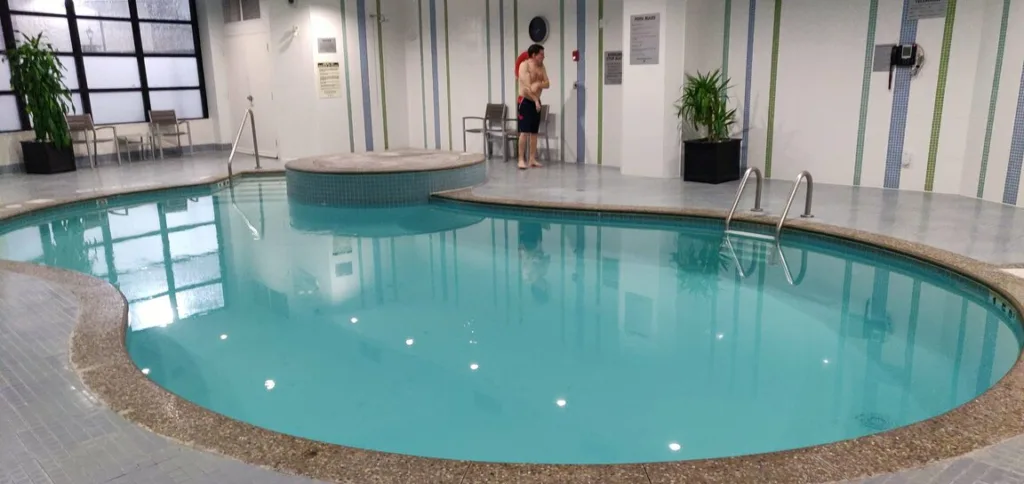 Spring Getaway Bonuses from C Hotel by Carmens
We booked our staycation at C Hotel by Carmen's because of their excellent March Break package, which has been extended until April 10, 2023. So you're in luck! You can book at the same rate we did (and hopefully without the snowstorm!) This would make an egg-cellent Easter long weekend adventure.
The extended March Break package includes:
1-night stay for a maximum of 4⁠ people
$75 Baci gift card
Family fun basket (s'mores kits, kids hotel scavenger hunt checklist, colouring books and markers, hiking maps, bubbles, board games)⁠
Custom hiking trail & lookout maps⁠
Pool & fireside table⁠ for s'mores
Bedtime milk & cookie delivery @ 7pm⁠
Starting at $259.99/night, & available for stays between March 10th & April 10, 2023.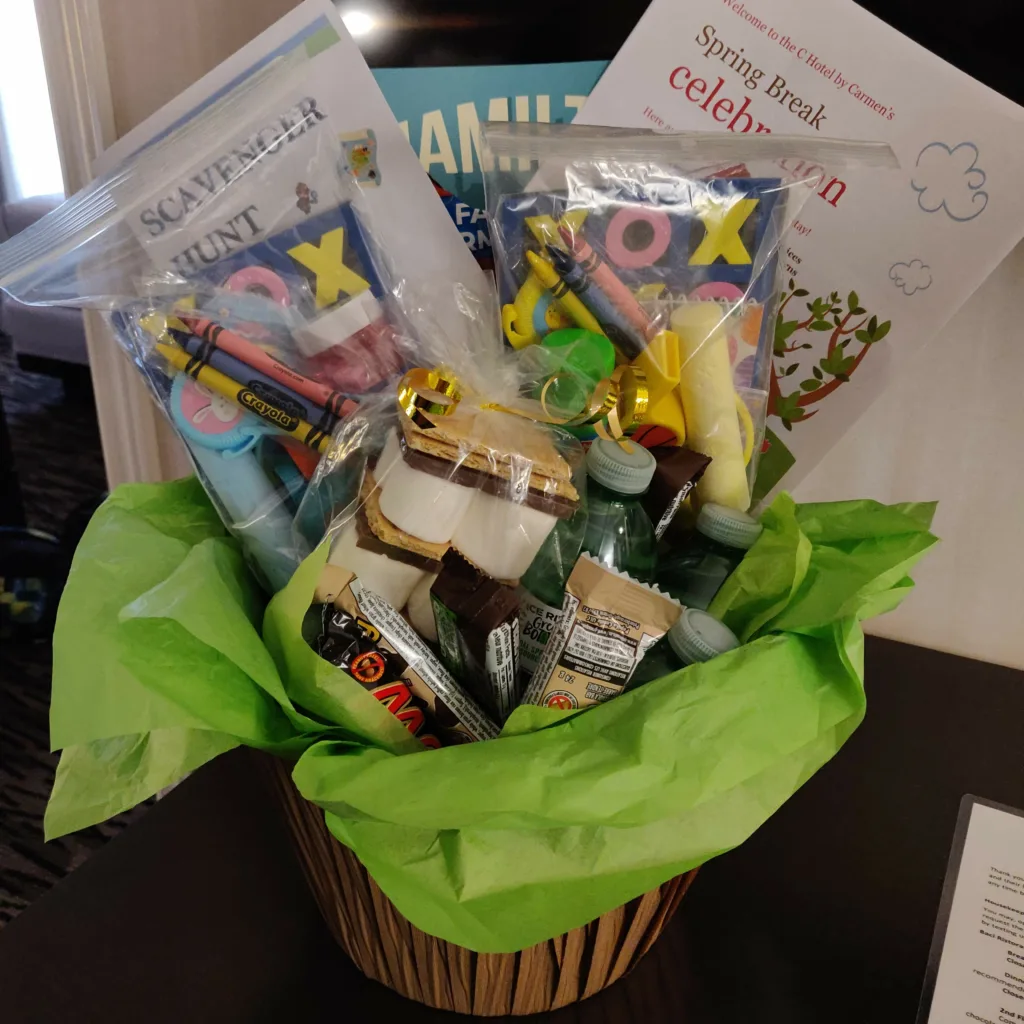 Book Your Staycation At C Hotel by Carmens Group
This specific package can easily be booked online vis the C Hotel website here. Or call them at 1-855-205-4638 if you have any specific questions.
C Hotel is located at 1530 Stone Church Rd East, Hamilton, ON L8W 3P9